This week started with a MUCH needed getaway!  We went out of town for the weekend with our friend's and our kiddos!  It was SO needed, just to be away and not worry about the house for a couple days, I am SO thankful!  I ran, we ate well, and just relaxed:-)  We also had plenty of work progress on the house, milkshakes and a field trip! It was a full week!  I am SO thankful to be part of LIGHTBOX STORIES and be inspired and encouraged by them to continue to tell my story.  Being a family and lifestyle portrait photographer I "sometimes" focus on documenting other people's families through pictures, prints, art, and albums, and neglect to capture the memories of my own family:-)  This year I am trying to make sure that doesn't happen:-)  AND as I keep challenging myself and shooting, I aim to improve my storytelling images so that not only does my family benefit, BUT you do too! It's win-win!  Thanks for looking at the images of my life and reading my story!
Don't know what I am talking about?  Check out the FIRST SEVENTEEN WEEKS of my 365 project.
We had a little more than 30 minutes until our destination, one boy absolutely could NOT make it, so we stopped at this beautiful diner:-)  I took photos while they used the facilities:-)  Next time we might actually eat here!  I seriously couldn't resist the truck in front and the pig on the sign:-):-)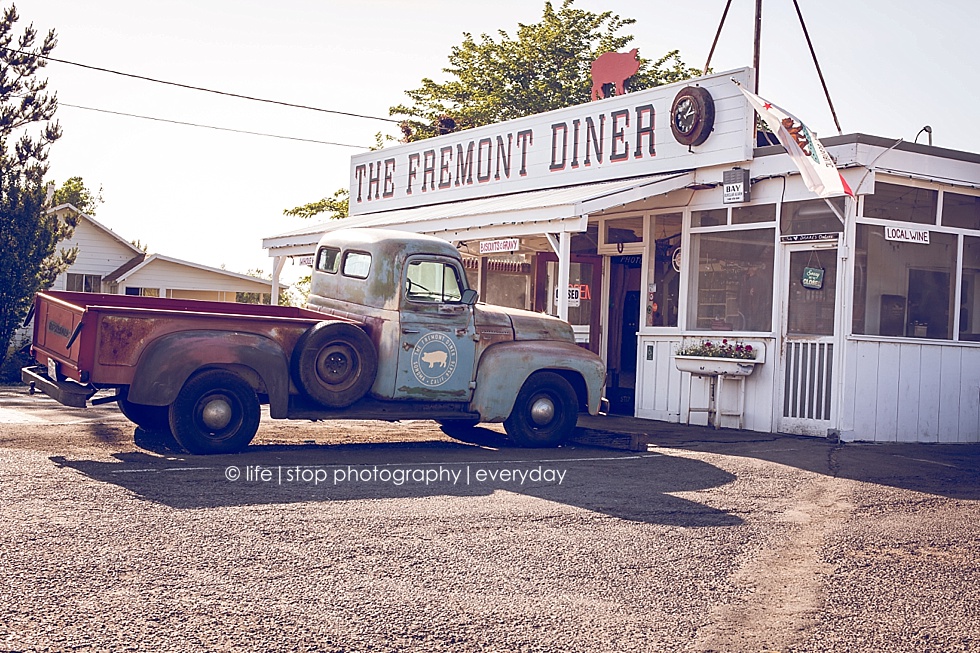 122|365
Our friends couldn't wait to take us to the Shed, and it was EVERYTHING they promised. Wine on tap, Kombucha on tap, AND beautiful handcrafted food, cheese, and meats.  Plus garden and kitchen shopping:-)  It was a great afternoon!
The kids had SO much fun with their friends, they talked about what a great weekend it was all the way home:-)  Good times ALL AROUND!


124|365
We have a fireplace!  I cannot wait to try it out!


125|365
One part of building a home, and being in the thick of it, means we are running around a bit, and eating out.  Sometimes it's because we have an errand to run, sometimes it's because I just don't feel like cooking.  Tonight was special, we got them shakes, they were HAPPY!


126|365
We got a riding mower.  I think Tom has ALWAYS wanted one of these:-)  The boys are quite fond of it too!  I am sure it will get lots of use!


127|365
Today I had the pleasure of accompanying Holden's class to the Maidu Museum.  We learned all about the Maidu people and how they lived.  We even got to paint our faces…the kids did at least:-)  I think they had fun!  I am SO thankful that I am able to go on these trips!  What a fun day!


Thanks for reading!  Don't forget to check back next week, and check back for next month's blog circle!  I can't wait to see all the great images from the LIGHTBOX STORIES PHOTOGRAPHERS !
Like MY STORY and want me to tell yours?  Do you need new family images to tell that story on your walls, or in a book on your coffee table?  Are you looking at your kids and wondering, where the time goes, and how they got so big?  Do you want to celebrate who THEY are RIGHT now?  I would love to tell YOUR FAMILY'S story, and CAPTURE YOUR LIFE!   Send me an EMAIL, and we will grab a coffee and get to know each other!
-Anna