At least a few times a year I LOVE to donate a FAMILY SESSION to a fundraising auction.  It is a great way to give back, as well as meet new clients!  So when Amanda called me and said that she had the winning bid on a session from one of these auctions, I couldn't wait to meet her and her family!  The basket she bid on was a collaboration for my son's kindergarten class, and included gift certificates for a couple stores for outfits:-)  It was a fun basket!
We decided to meet up for our session at Veteran's Park in Roseville, it is such a beautiful park and I have photographed families and babies here before.  The "woodsy" feel and the option of open grassy land is always sure to please!  And it is beautiful year round, so that is always a positive!
This family is SO sweet and their daughter is full of personality, as always it was an honor to be chosen to capture their images.
This bike path is always a fun "road" to capture, and it's safe;-)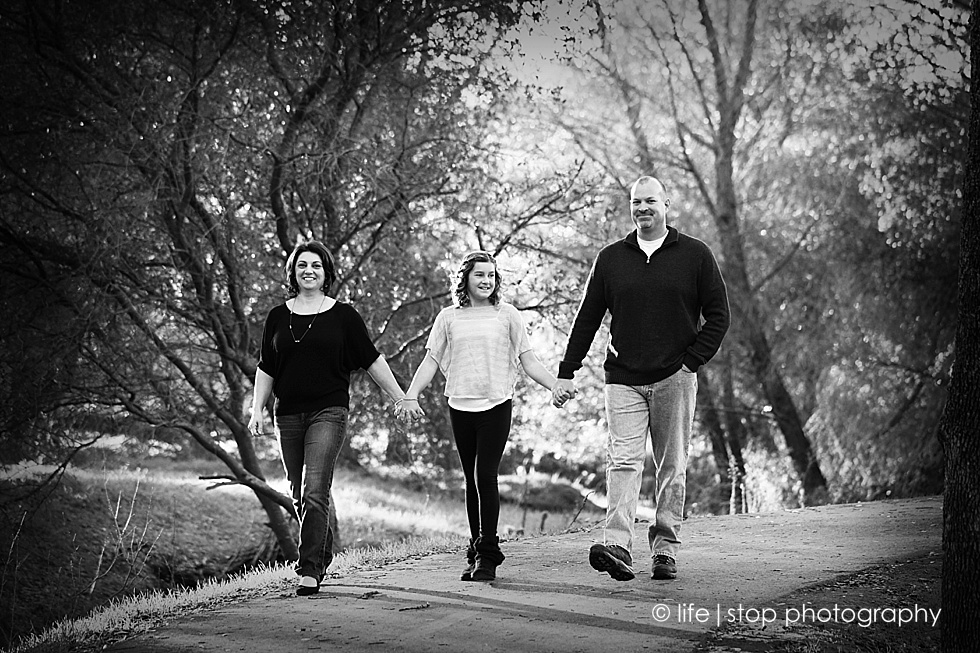 If you haven't noticed, I LOVE capturing the "in-between moments" AND this one is no exception, I just couldn't resist this gaze at his wife, how many of us would love to catch our significant other glancing, or gazing at us when they are supposed to be smiling for the camera;-)
Obviously their daughter is NOT a fan of the kiss:-)
Speaking of this sweet girl, she was a joy to capture!  And honestly a joy to be around, she made us laugh, helped make her parents comfortable, and was easy to capture.  She is beautiful, and spunky!  A combination I love.
Thank you Neely Family for allowing me to capture a glimpse of who you are, AND for letting me decorate you home with such beautiful images of your family!  I loved delivering your art!
What's YOUR story? Do you need new family images to tell that story on your walls, or in a book on your coffee table?  Are you looking at your kids and wondering, where the time goes, and how they got so big?  Do you want to celebrate who THEY are RIGHT now?  I would love to tell YOUR FAMILY'S story, and CAPTURE YOUR LIFE!   Send me an EMAIL, and we will grab a coffee and get to know each other!