Meghan + Xavier's wedding is TOMORROW!  I am SO excited to capture such a special day in their lives!
But this adventure started months ago, when I posted Angellica + Charlie's wedding images on Facebook, Meghan called me and asked if I would capture their special day:-).  We talked over some details, and scheduled our first pre-wedding meeting! When we "met", I took them to one of my favorite local spots, Loomis Basin Brewing, to go over their plans and vision for their special day!  It was such a treat to meet with them, and watch them dream and plan together!  Their love for each other was so apparent, and what is the BEST thing about capturing LOVE?  Celebrating a couple saying, "I DO", and capturing the first day of the rest of their lives together as a family.
At the initial planning session, I learned a few things about the couple, things like, Meghan prefers wine to beer, I will remember that for next time!:-)  But, the best way to get to know a couple and what they want for their big day is, an ENGAGEMENT SESSION of course!  So we scheduled that for early July, and away we went.
July 6th, was HOT, over 100 HOT.  I arrived at our session with frozen water bottles and things to help us battle the heat!  I was SO thankful we had chosen School Park Preserve as our location, its nice and shady, with LOTS of places to get out of the heat:-)  These two were troopers, and they looked flawless despite the heat, it did help that we met closer to sunset:-)  I love the way they are together, their love for each other is evident, in how they treat each other, how he smiles, and how she LAUGHS when they are near each other.
Meghan + Xavier wanted something special at their engagement session, that will be blogged later, BUT there MAY be a sneak peek at the bottom of this post, so be sure to enjoy all the images:-)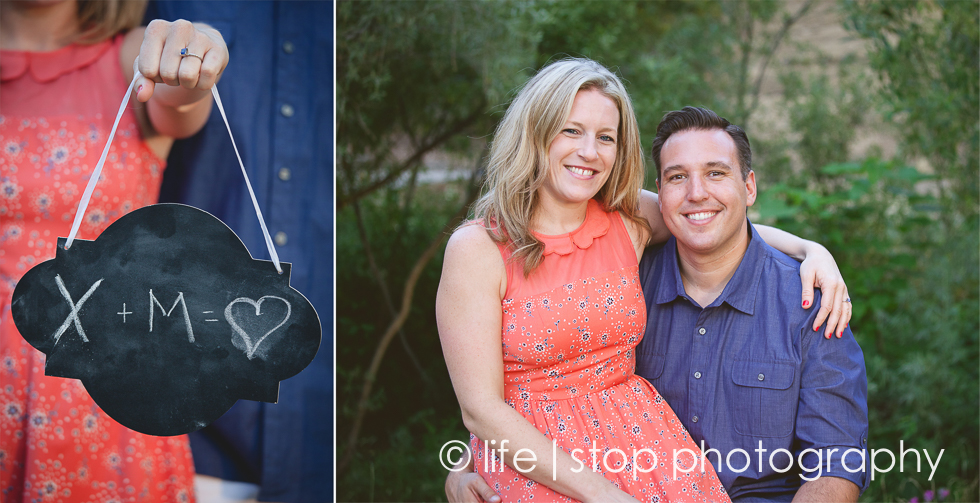 I LOVED that I handed Meghan this chalkboard, to write something on, and Xavier took it because he has better writing:-)  BUT the heart is all Meghan's!
THIS is my favorite! That smile says it all:-)
Since they will be joining families, Meghan + Xavier asked if I would capture some images of their new family!  I of course was happy to oblige!  You will have to hear the whole story in that post, but to peak your interest here is a little sneak peek! I love this family!
Thank you Meghan + Xavier for inviting me in, ad letting me tell YOUR story!  I am excited for the next chapter to begin tomorrow!
Do you have an important chapter in your story that you want me to tell?  Are you recently engaged, or renewing vows?  I would love to tell YOUR story, and CAPTURE YOUR LIFE!  Send me an email, we will grab a coffee and get to know each other!
Thanks for reading!
Anna