One of my favorite aspects of being a family photographer, is to making sure you not only get images you love, but also to provide you with a means to gift those images, display those images in your home, and be able to flip through those images years from now, and enjoy them, not on your computer screen but with something to hold and touch, something to look through and remember.  So many times I meet a client and they have no idea that professional photographers provide this service. We get beautiful prints and albums into your hand with little to no work from you:-)  We order, package and deliver.  We can even help you choose your favorites, and help you decide how and where to display them!  It's all part of making the family portrait, wedding, and school picture sessions painless and cherished;-)  Displaying your story, capturing who YOU are is my PASSION!  SO, I decided that once a month I will feature a product I love, give out to people myself, and have in my home, so that you can see what is available to you when you honor me with the privilege of capture your special moments, your treasures:-)
I am always looking for the best way to gift prints to clients, AND to my family as well.  Just like you, I have parents who want to have picture after picture of my kids to show off or just to look at when they are far away.  AND if I am honest I LOVE to see my boys and how they've grown in pictures;-)  I was SO excited when I came across these Accordion-Mini Albums!  Now, I use them as Thank You gifts for clients, and all kinds of personal gifts!  My clients have fallen in love with them too!  They are often one of the first "gift" orders people go towards.  They fit right in your purse always ready to be pulled out and shown off!  They can also be displayed on a desk, a welcome answer to the "which image should I display" dilemma for Dads, Moms, anyone really. The best part?  They are affordable, so you can gift the grandparents yearly brag books:-)  AND they can display or store the past years to always be at the ready to walk down memory lane.
These albums are beautiful quality, sturdy and can withstand my boys admiring their own faces over and over:-)  I LOVE to use images on the covers, BUT sometimes a nice bold fabric cover makes a nice statement.  I ALWAYS provide a slipcover for the albums, just in case you want to store them in your purse or carry them around with you;-)
These little albums make PERFECT gifts, I have seen them used for Wedding Party Thank You's, Mother of the Bride + Groom gifts, Grandparents gifts, Valentine's for Mom's and Dad's, and have even gifted them to myself;-)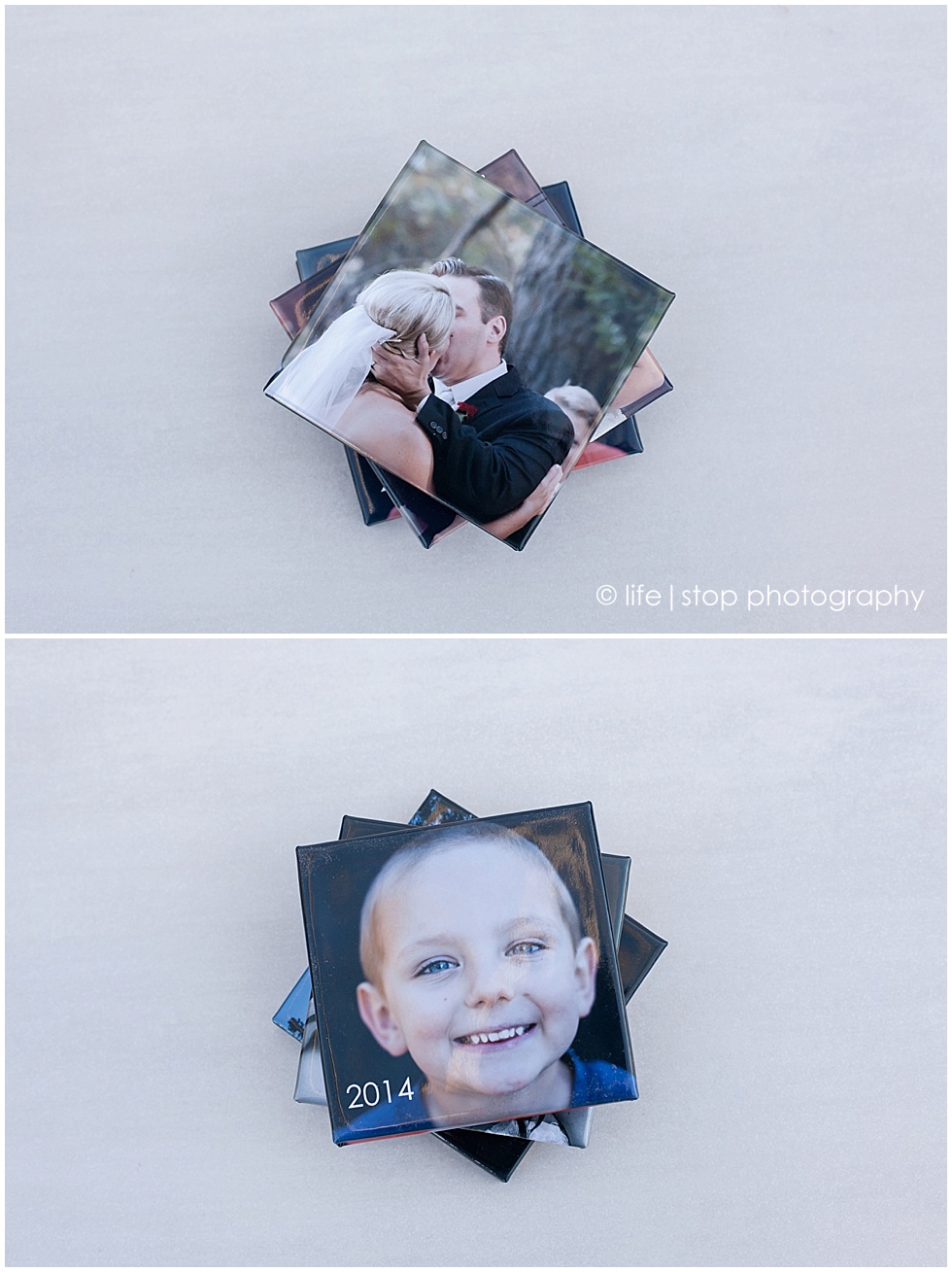 I just LOVE how you can tell a small story with these albums.
I have this one out on my desk:-)  It makes me happy every time I see it! I mean who wouldn't want to stare at those faces:-)
This one was made for our parents, it has both families on it and they LOVED it!
Accordion-Mini albums are a FUN, affordable gift to give, AND they come in sets of three SO perfect for grandparents, and yourself, everyone is covered!  I am so excited to offer these albums as a gift option to tell the story of your family and provide a keepsake of your session.  I would love to help create these amazing gifts for you, please email me to discuss creating your own Accordion-Mini story today!